Besides just being the lead guitarist and songwriter for The Band, Robbie Robertson has also found celebration for his collaborations with filmmaker Martin Scorcese. Most notably, Robertson and Scorcese worked together on the rockumentary The Last Waltz.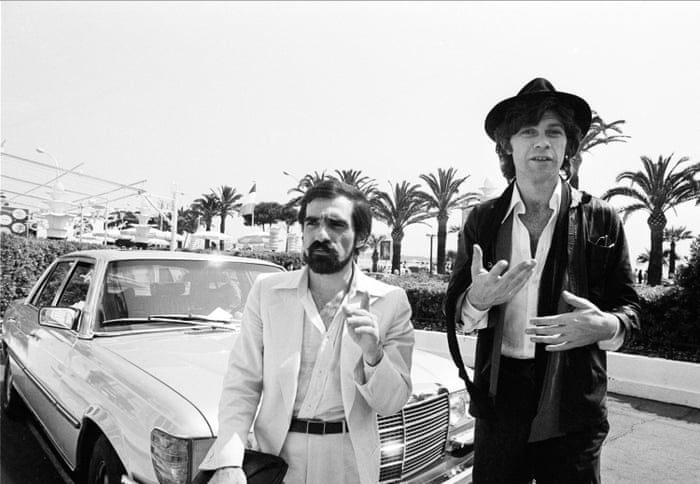 The Last Waltz was a concert film recorded on Thanksgiving Day in 1976. This was meant to be the farewell concert from The Band and featured special guests like Eric Clapton, Bob Dylan, Van Morrison, Ringo Starr, Muddy Waters and others. The film launched a genre in which concert footage would be intercut with private moments among the band, various renditions of known songs, and talking-head style interviews. The film heavily focused on Robertson as the bands front man.  
The concert and film celebrated a 16-year career while acknowledging that 16 years is a good time to stop. "I mean, I couldn't live with twenty years on the road" laments Robertson, "I don't think I could even discuss it." So when band member Richard Manuel was seriously injured and Robertson was growing weary of the road, rather than become a studio band, releasing music but never touring it, The Band threw a huge farewell concert and called it.  
That night, The Band came out right past 2:00am, performed "Don't Do It" and never again performed under the name "The Band."  
The film is almost constantly referred to as one of the greatest concert films in history and yet, much ado has been made about the heavy focus on Robertson rather than other band members.  
This brings me to today's discussion points, sound off in the comments:  
How much was Robbie Robertson the front man of The Band, and how much of this is simply how we remember it because of newsmedia and Scorcese's film? 

 
What are some other situations in which documenting something changes the central focus of the thing it's documenting? Can documentaries choose a focus and redirect the discussion about the content being documented? Can this be used for nefarious purposes? 

 
Scorsese and Robertson went on to collaborate on several more projects, including the music on Scorsese's films Raging Bull, The King of Comedy and The Color of Money. What are some of the benefits of collaboration between this kind of filmmaker and this kind of musician? 

 
Robbie Robertson and The Band is often referred to as definitively Americana, his relationship with American filmmaker Martin Scorsese further cements this standing. Does The Band's Canadian citizenship in any way complicate this reference?